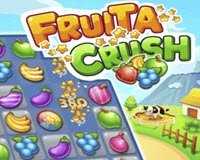 Fruita Crush is a fruitful html5 match 3 game where you have to combine lots of tasty fruits.
The sequel to our popular swap and match game Shape Matcher has arrived!

Player only needs simply match cells to create cell-soldiers and fight with Joker's germ legion.

Become an epic warrior and defeat all your opponents using your wits and strategy.
Cube Crash 2 is the sequel to the addicting match 3 game Cube Crash.

A funny crazy water-physics game. Defend the Magic Well from colorful invaders!
Weirdtris is a peculiar mash up of tetris and match-3 with some gravity added to the mix.

Flubbles the color matching game with a difference.

Misfortune has befallen the magic kingdom again!