At each level, Alice must to score blue hedgehog in his hole.
Graveyard Golf is a great miniature golf game set in a spooky graveyard.

Try to hit the golf ball as far as you can!

Pirate Golf Adventure is a story-driven 2D sidescrolling golf pirate adventure skill game. Pass the golf ball through eight unique and lovingly courses enriched with an exciting and romantic story.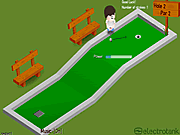 It's a really fun game, perfect for having some laughs with your friends.

Excellent Easter Golf game! Includes bunnies!