Featured Food / Cooking Games
More>>

In this sequel to the award-winning hit game "Papa's Pizzeria", you're headed back to the kitchen to run Papa Louie's new burger shop!
Run this noodle shop and look after the customers, server 'em up the best noodles in the world.

Show off your skills in the kitchen and prepare a Spanish Omelette.
Serve up a second helping of dinner with seven new recipes!

Serve up a ton of tasty dishes -- and hurry, we're hungry!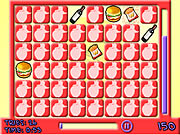 Memorize the locations of the paired cards and then match the cards in as few clicks and possible.