Featured Tower Defense Games
More>>
Don't let enemies destroy your main base.
Strategically choose and position your squad members in this new defense game!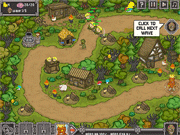 Defend your kingdom against hordes of zombies. Build armed towers and units.
Eliminate the attacking vampires.
Defend your base against the evil mutants!

Defend yourself and use the power of the 4 elements.

Defend yourself from the slimes in this tower defense game.
Lead your brave squad at the battlefield and save the realm.
In this game, you should become a transport company manager.