Eliminate the attacking vampires.

Join the numbers and get to the 2048 tile!
The sequel to our popular swap and match game Shape Matcher has arrived!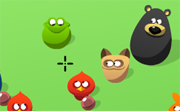 This game is all about mouse handling in fragile ecosystems.

Superbike racing through mountains, deserts, the arctic and the outback.

Test your skills to solve word puzzles with Anagramio!