Featured Super Mario Games
More>>
Clones cloning clones cloning clones.
Try to find all the matching pairs of the characters of the super mario.
Play as famous plumber named Mario.
A cute platformer featuring 4 unique worlds (12 scenes). Jump on enemies, collect stuff, defeat the boss, make your way to the top of the online highscore!

This game is about Robin, a brave guy that likes to buy new weapons and go out to kill some monsters. Have fun!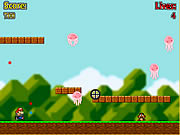 This is quite an untypical Mario game. You're Mario who's running forward all the time.

Yoko is a platform game in the style of Mario. Run and jump through the levels, collect power ups and try to stay alive.
Reach the Sunshine Sprite.
Another Mario world that is another short few levels to beat.