Featured Pool / Snooker Games
More>>

Play pool against computer players in tournaments to become rank #1.
Take on eight awesome opponents in this realistic game of Nine Ball Billiards!

Billiards game with realistic physics effects. Modalities: Straight Pool and 9-ball.

Very fun Billiard, 9 Ball. With 40 level missions. Free style playing available.

Pot as many balls as you can! You're allowed 5 misses, but potting the black will give you an extra life.
Finally - a pool table that will fit into any home! Play 8-ball, 9-ball, 10-ball, cowboy or golf pool in eight exotic environments.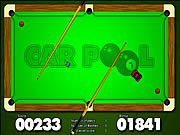 Push the pool table balls into the pockets of the pool table before time runs out with your car.

Mini-Pool with powerups and three different tables.

Sexy Billiards is a pool game. You play with 15 color balls and a cue ball.