Welcome to the 3rd series of Popular Charming Girls.

Are you dreaming of becoming a top model?
Show us what you've got! Give me an A! Give me a G!

Do you have what it takes to be a top NYC designer? Dress-up your models and send them out on the runway!

You are a new makeup artist in a salon. After learning the basics, you will have to show your skills on a model.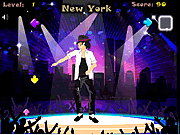 This is it the last tour of Michael Jackson and he will show the world what The King of Pop really made off.

Summer Fun Dressup is a unique dressing game that incorporates a cool style for those who like summer and stylish wear.
Help Michael Jackson perform his last dance as long as possible.
Dress up Harry Potter for his new film!