Featured Card / Board Games
More>>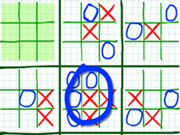 Strategic Tic-Tac-Toe is the ultimate Noughts and Crosses game with a new twist.
FruitJong is a 3d mahjong game with wooden colorful blocks.

Elements is a free fantasy online card game. Hundreds of creatures, spells, magic and artifacts to play with.

Solitaire: Deck of Cods Stop floundering around and prove you're the Ace of Baits in Solitaire: Deck of Cods.

This is a real-time property development board game.
Governor of Poker 2.
Know your bird packs and join them together to raise your elevation and rule the skies.

Use dice and see how far you can run!

This ancient and elegant Nunan token game requires skill, patience and observation.